Whale watching is one of the most amazing marine wildlife adventures in Tenerife. See whales off the coast of Tenerife from a speedboat with a small group guided tour by a professional Marine Biologist. Maintaining a safe distance to keep from disturbing the whales, due to the small rib boat advantage, you will be the closest possible to get some great photos and to enjoy this remarkable experience at its best. 
Our whale express is the most convenient way to see the wildlife, getting as close as possible and not wasting your time on unnecessary long trips. With our Marine Biologist Guide you will learn interesting facts about the whales and listen to them with our hydrophone.
Enjoy the moment and do not worry about the photos, during the tour our biologist will take pictures of the animals and we will send it to your email, free of charge.

About the boat
Hold on tight on our padded benches as you set sail with our zodiac boat of 8 meters long. This rib type boat allows you to get the closest possible to the whales and wildlife than any other boat can offer. The speedboat with a 200 CV engine gets you to the viewing area quickly and covers a large area as we search for the wildlife - this means a bigger chance of spotting whales, dolphins and bird life and getting as close as possible without disturbing them in their natural habitat. Only 10 people per boat with an expert Marine Biologist and the boat captain. 
Do not mistake this with a "Classic Whale Watching Tour", which usually takes minimum 3 hours, and most of the time you will spend on the trip to the whales spot. Our express whale watching trip takes only around 15 minutes to get there, meaning that you will get the best experience without loosing your time. You can choose 1 hour or 2 hours tour, depending on how much of marine wildlife you want to experience.
Our 1 hour tour is every day (except Sundays) at 13:00.
Our 2 hours tour is every day (except Sundays) at 11:00 am.

Responsible Whale Watching with the Blue Boat flag
Whale watching is understandably very popular with tourists and residents alike, and with that comes a big responsibility towards preserving and respecting the nature. Unfortunately not all the boats doing whales watching understands the importance of it. Therefore it is very important to choose only the boats, that operate responsibly and work with the "Quality Charter" complying with the regulations. 
The boats authorized to make sightings of cetaceans/whales are distinguished by carrying a yellow flag with the "Blue Boat/Barco Azul" logo that allows them to be identified.
After the introduction of these regulations, over the last 25 years, the research has shown quite a dramatic improvement in the whale watching experience (for the whales). The blue flag whale watching boats continue to abide by the regulations and maintain a safe distance to keep from disturbing the whales and other animals. But unfortunately the increasing rate of illegal boat activity is causing significant distress to the whales. Therefore please do not book a whale watching trip with an illegal boat!


Marine Wildlife
We have 21 different species of whales and dolphins registered in the waters of Tenerife. The two most common are Bottlenose Dolphins and Short Finned Pilot Whales.
 
Short-finned Pilot Whale (Globicephala Macrorhynchus)
Tenerife is one of the only 5 places in the world with a resident population of Short-finned Pilot Whales. During our tours, we have the opportunity to see different family groups and observe different behaviors such as resting, travelling, socializing and mating. Pilot whales are very sociable animals, living in pods of 10-20 animals. The males are bigger than the females, growing up to 7 meters in length. They can go up to 1000 meters deep to find the squid that they feed on.
Pilot Whales are easy to study for a number of reasons. During the day they can be found logging at the surface of the water where they recuperate from their night-time hunting efforts in shallower, warm water.
Did you know?
They are known as the "Cheetahs of the deep" for the high-speed they reach when they are hunting.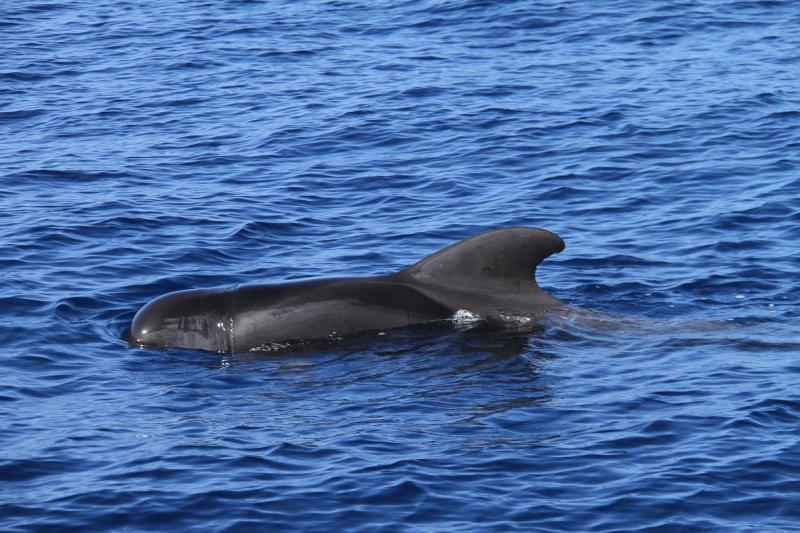 Bottlenose Dolphin (Tursiops Truncatus)
There is a stable population of bottlenose dolphins living in the South West of Tenerife. It is possible to observe two different ecotypes, the coastal and the oceanic bottlenose dolphins. The dolphins that we find close to shore, live in small pods and are frequently met around the fishing farm. To meet the oceanic bottlenose dolphins we have to travel a few miles away from the coast.

The bottlenose dolphin is one of the most iconic species (is the famous "Flipper" dolphin and the most often chosen for the captive shows), they can be very active at the surface by breaching out of the water or bow-riding.
Bottlenose Dolphins show attachment to other species, especially humans. Indeed, all around the world (USA, Australia, New Zealand, and Great Britain) some dolphins have entered into spontaneous relationships with humans. 
Did you know?
They are so smart that they can recognize themselves in a mirror.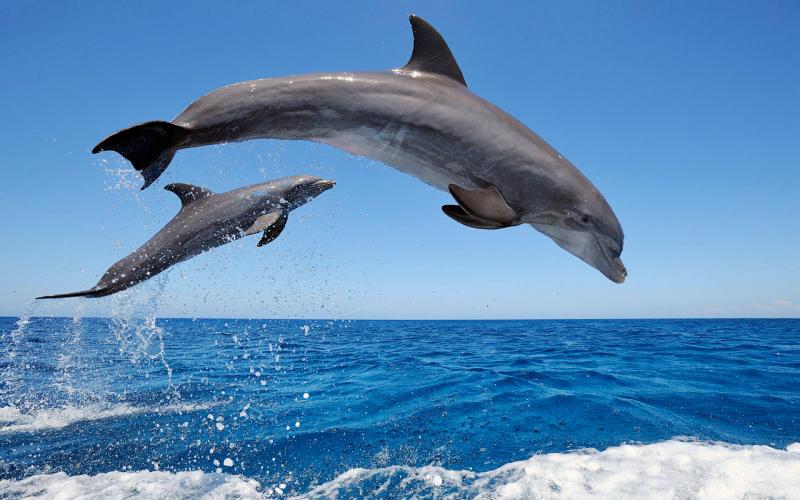 Atlantic Spotted Dolphin (Stenella Frontalis)
The Atlantic spotted dolphin is an oceanic species that live in big groups of around 50-100 individuals. They are extremely friendly with the boats, approaching to them and bow-riding. This species can be seen travelling with other species of dolphins such as bottlenose and common dolphins. They feed on small school fishes and they are often associated with groups of birds such as yellow-legged gulls and Cory's shearwaters.
Did you know?
Atlantic spotted dolphins are grey when they are born but they start getting spots on their skin with the age.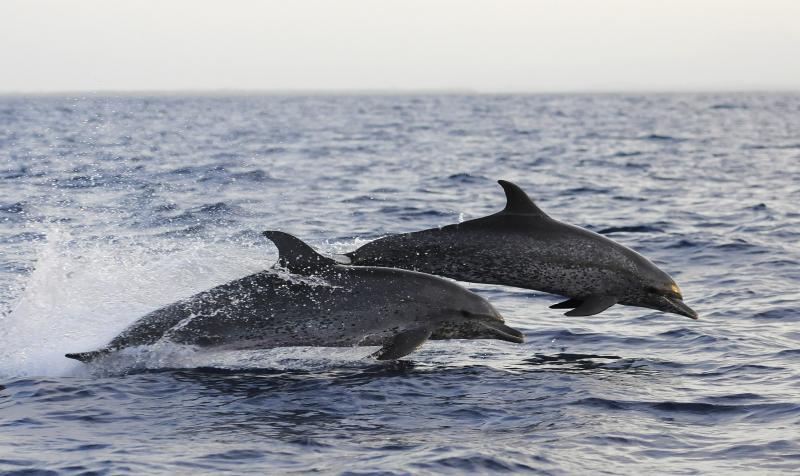 Common Dolphin (Delphinus Delphis)
This species of dolphin is really easy to recognize because of its beautiful coloration; they are marked with a distinct yellow and grey pattern along their sides. In Tenerife, they are seen in big groups between 20-50 animals. They can be very acrobatic and friendly with the boats. When feeding, they work together as a team to herd fish into tight balls. They are often seen in association with diving Cory' shearwater feeding on the same fish.
Did you know?
The gestation time for the common dolphins is about 12 months.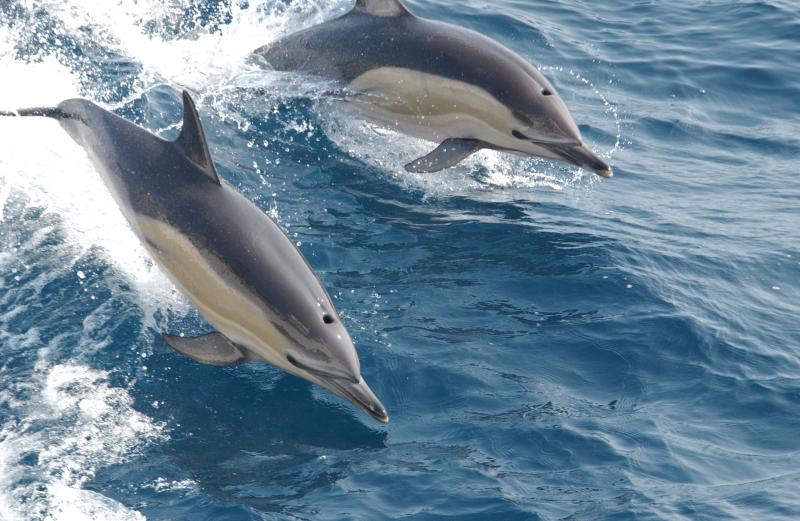 Sperm Whale (Physeter Macrocephalus)
It is the largest predator in the world! The sperm whales males can grow up to 18 meters in length. They feed mostly on giant squid at depths of 2000-3000 meters. The females live in families of 10-15 animals while adult males are solitary animals. In Tenerife there is a stable population of sperm whales, the sighting of this species depends on the distance from the coast (they are usually around 5 miles away from the coast) and the behavior of the animals (they can stay more than 45 minutes under the water).
The largest of the Antarctic toothed cetaceans, Sperm Whales have an enormous square head and a robust dark grey or brownish grey body with corrugations in the skin giving it a wrinkled prune-like appearance.
Did you know?
The sperm whale has the heaviest brain in the animal kingdom - up to 7 kg!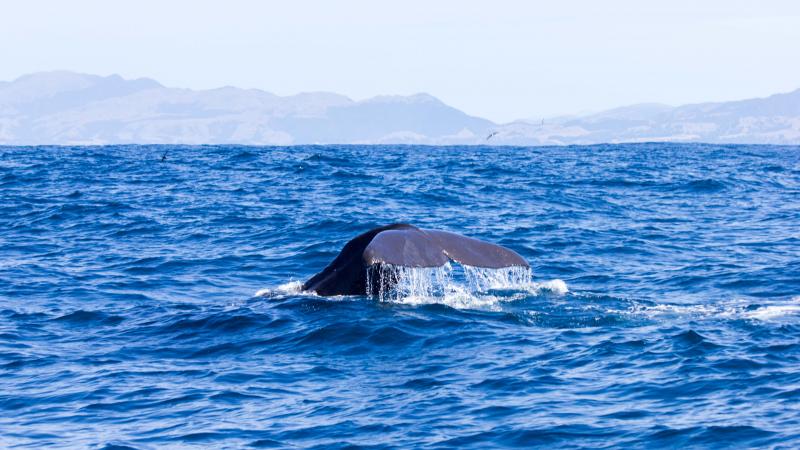 Bryde's Whale (Balaenoptera Edeni)
The Bryde's whale is the species of baleen whale more often observed in Tenerife Island. They feed mostly on small school of fish such as anchovies and trumpeters. They are solitary animals but we can see them in pairs (mom and calf) quite often. This species of baleen whale can be confused with others such as Fin Whale or Sei Whale (because of its size and coloration) but the Bryde's Whale has three parallel ridges on the top of its head while the others have just one. It is the only species of baleen whales that spends the whole year in tropical and subtropical areas (16 °C or more), which means that we have a chance to see them in Tenerife all year long!
Did you know?
Bryde's Whale (pronounced "broo-dess") was named after Johan Bryde, who helped built the first whaling factory in Durban, South Africa in 1909.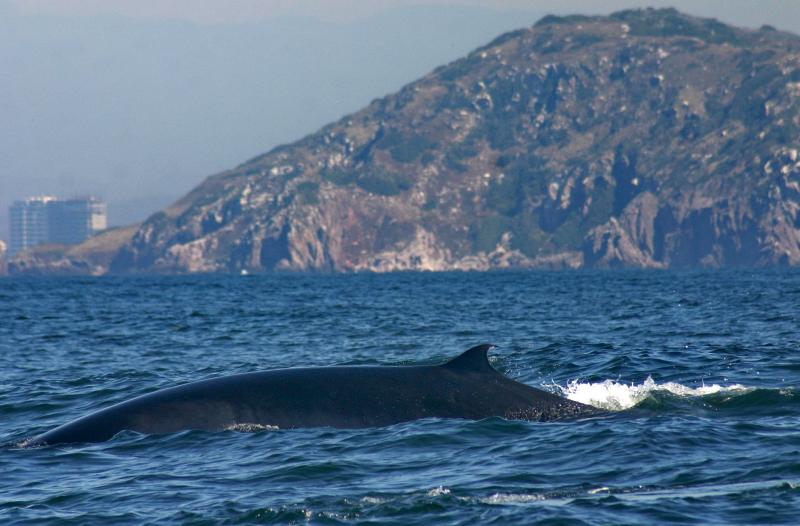 Loggerhead Turtle (Caretta Caretta)
This is the species of sea turtle that we meet the most during our tours. The Loggerhead Turtle arrives to the Canary Islands after a long journey from the Gulf of Mexico and Florida. We mostly meet them on the summer, but it is possible to find them all year long.
Did you know?
Loggerhead Turtles feed on jellyfish that sometimes they can confuse with plastic. One more reason to reduce the amount of plastic that we use daily.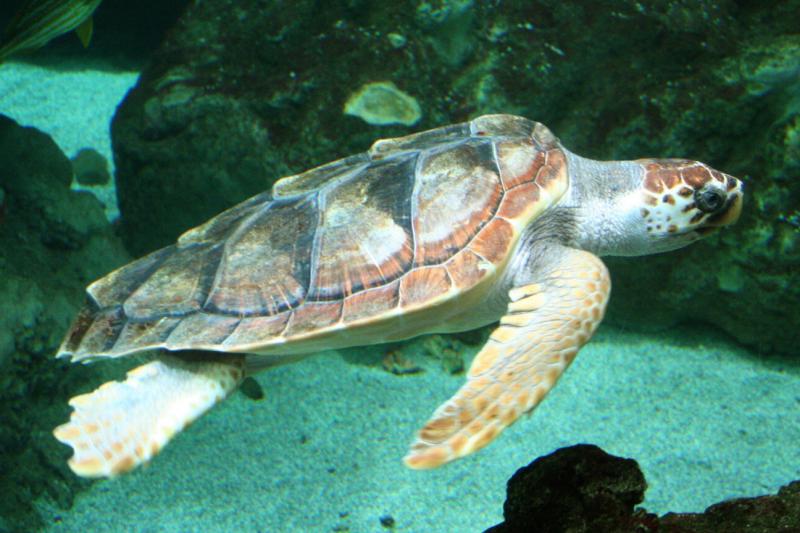 Cory's Shearwater (Calonectris Diomedea)
The Cory's Shearwater is a migratory species of shearwater that breeds in the Canary Islands. They can be seen together with big groups of dolphins when feeding, since they search for the same small school of fish.